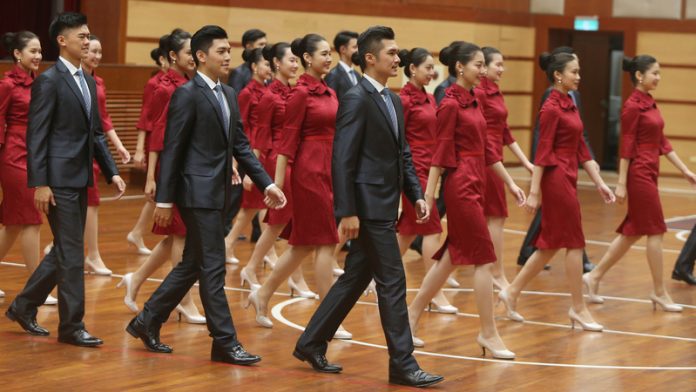 It's been 34 years since Ming Chuan University students were first invited to help out with Taiwan's National Day celebration. With this year's event coming up, the latest batch of students selected for the job is ready for the big day.
24 lucky students from Ming Chuan University have been selected to work at this year's National Day event. The students were introduced to the public on Friday. As in previous years, they are energetic, conscientious and well-prepared for the celebrations.
These students are responsible for making sure that distinguished guests attending the event have a wonderful day and that their needs are met. Altogether, the students will be providing services in ten languages.
The students include 15 women, who will wear red dresses, and nine men, who will wear suits. The women's dresses have already attracted attention. Their traditional Chinese collars and wavy sleeve cuffs give them a classical feel. One student said the four-leaf clover design included on the dress is a symbol of confidence, hope, luck, and health.
Four of the 24 students come from overseas. Two are South Koreans, one comes from Myanmar, and one is Japanese.
This is the third time that the Japanese student has been chosen to help out. She said she wouldn't have had the opportunity to receive the training needed for such a big event in Japan, not to mention a chance to offer services in Chinese.