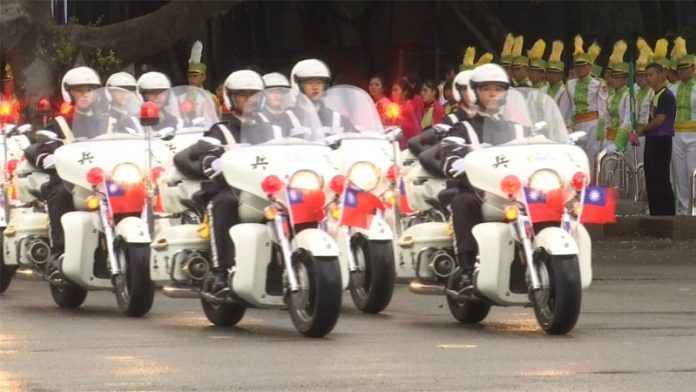 Taiwan is set to celebrate its 107th National Day on October 10th with one of the usual highlights a performance by the military. Last Friday, the country's Tri-Services — the army, navy and air force — held a rehearsal in front of the Presidential Office in preparation for the big day.
Members of the Tri-service honor guard twirl their rifles in unison. Precision is key – no step out of time, no movement out of place. The two leaders of the honor guard also wield their swords with perfect timing.
Military police maneuver 54 heavy motorcycles through the open intersection, capturing the attention of the media. This year marks the first time that the 'rapid reaction unit" will be demonstrating their skill for avoiding obstacles.
The unit includes six women. One female soldier says they received three months of training, starting with learning how to drive backwards and hold the motorbike steady.
This year the National Defense University choir will lead the crowd in singing the national anthem. One of the choir members says that there is still more work to do in order to ensure they are ready for National Day next week.
One other highlight is Mirage fighters are set to pass overhead, adding excitement to the festivities.